Shopping Cart
Your Cart is Empty
There was an error with PayPal
Click here to try again
Thank you for your business!
You should be receiving an order confirmation from Paypal shortly.
Exit Shopping Cart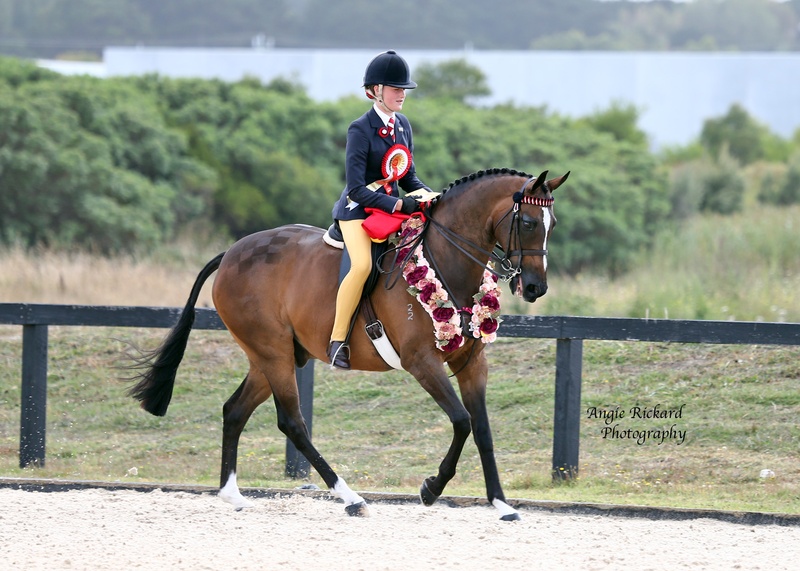 Photo Caption: Alex and Boyfriend - Champion Rider, Adelaide Royal 2014
I'm so pleased to introduce our Sponsored Team Alex Nairn and her hack, Boyfriend. Alex enjoyed a very successful 2014-15 show season and many of you will have seen our regular updates on Facebook.
"I am 14 years old am in year 8 at Melbourne Girls Grammar School. Aside from horse riding I love athletics and rowing. During the week the horses are kept at Barwon Heads and are looked after by my Granny. She also comes to all the shows and helps with my mum and sister. Coming into the show season the horses are exercised most days although getting down from Melbourne is not always easy.
I finished last show season with my new horse, 'Boyfriend' (Moh), and had some very exciting results including; 
Top Ten Child's Hack, SHC Grand Nationals 2015
Smartest on Parade, SHC Grand Nationals 2015


Champion Child's Hack, SHCV Horse of the Year 2013
Champion Child's Hack, All States Show Down 2014
Top Ten Rider, Open Hack and Child's Hack SHC Grand Nationals 2014
1st Mount, Rider and Equipment, Sydney Royal 2014
Runner up Child's Hack, Vasa 2014
Champion Rider, Adelaide Royal 2014
My first show for this season was Bacchus Marsh Pre-Royal Show where I won Supreme Ridden Exhibit and Champion Child's Exhibit. I am also starting my new young thoroughbred, DP Lords (Christopher, right) as a show hunter. I love my horses and they make me so proud as they try so hard. Wining some of these fabulous awards is just the icing on the cake. I am very lucky to have such lovely horses."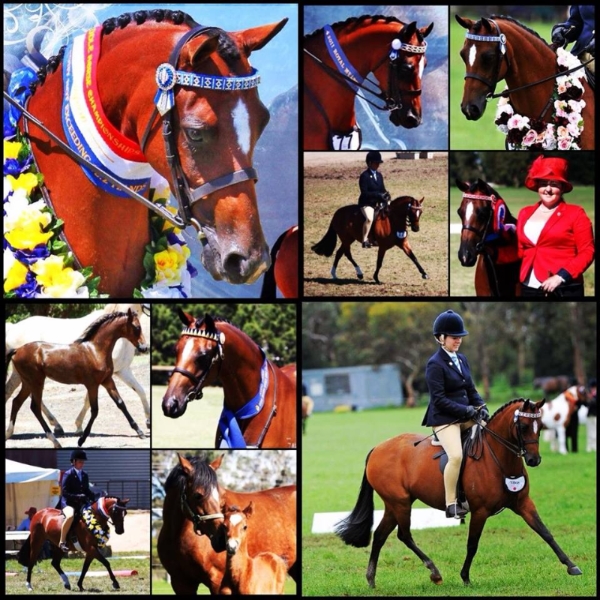 Holloway Stables is very much a "family affair" with sisters Stacey and Felicity and their parents Karen & Garry Bould, working together. Stacey has kindly offered us a peek into her journey that has lead her to many successes in the show ring.
"It was obvious from an early age that horses were going to be a major part of our life's journey, starting out on a Shetland pony and an old 12.2hh pony. The rule was simple: when we could ride them bareback, we were allowed a saddle.
From there we attended Pony Club, Dressage days, Combined Training days, One Day Events and started showing in the Fun Ring. It was there that Felicity looked over to the Open rings and pretty ponies and said "mum, I want to do that". Just like that we stepped up to the next level in showing.
In my teen years I gave up riding, choosing to pursue other interests and leaving behind Felicity who continued to go from strength to strength in the saddle, competing at HOTY and Royal Level with her hacks and pony, Dainhill Forget Me Not.
When I came back to the sport some seven years later the search was on to find me a horse. After looking at a few different horses, I came across a foal photo of a little bay filly trotting around that caught my eye. A couple of months later once weaned, Willowvale Devotion (Dolly) arrived home from SA. it was love at first sight, she is my soul mate, best friend and can never be replaced. It was working with Dolly my passion had changed somewhat from riding to focusing on the in-hand work with babies.
Our next purchases were Xtra Style of Sefton (Jnr), again whilst on his dam and a yearling TB filly from QLD to be named HS Roulette (Chutz). Felicity has done all the training with Chutz and is achieving great results in the ring and soon to enter the dressage arena. They both have their sights set on competing at this year's Melbourne Royal and hopefully in the near future, the Garryowen. I've also achieved great success with Jnr, who was a multi supreme champion in-hand.
It was through the purchase of Jnr that a wonderful friendship was formed with Maggie & Will from Sefton Riding Ponies, who are like family to us. Maggie has helped us along the way with guidance and offering an amazing opportunity to show some of her stunning ponies. We currently have Xtra Violets of Sefton to come out in-hand this season and as a future saddle pony, which we are really excited about.
It has been really rewarding to see our hard work and dedication pay off in the show ring over the last couple of years. I was lucky enough to have a very special friend who rode Dolly for me and they were an amazing partnership to watch with wins VASA Ltd, SHC, Barastoc, Summer Royal, Melbourne and Adelaide Royals. Wins I had only ever dreamed of.
Owning horses isn't a job for us, it's a hobby we fit in before and after work. We work hard with the ponies and to-date have never had the opportunity of buying an educated, pre-performed horse, we have started green horses.
We brought 18 acres located in Bayles, Victoria to house our growing number of four-legged family-members, and the dream of breeding a few foals. It was through Dolly, that Holloway Stables was formed with our first home bred baby to carry the prefix, Holloway Xtra Diamonds. We look forward to our second baby due this season out of Willowcroft Magic Dreams by Dresden Ace of Spades, to further cement the Holloway name."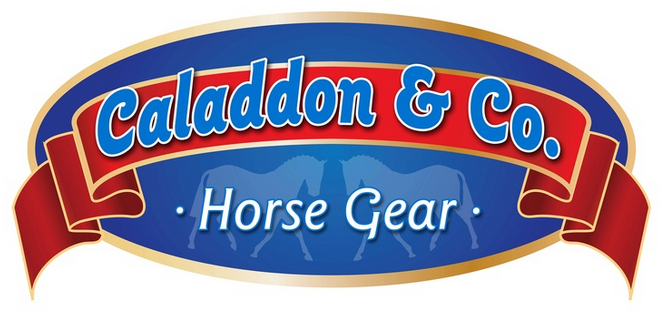 I'm so pleased to welcome you to our new website. With a constant flow of orders and having utilised Facebook as our main mode of sales and communication of the past six or so years, I think you'll agree our old website was a little neglected and in need of a face lift.
It was time for an overhaul so I called in reinforcements in the way of my daughter, and her Marketing & PR skills. We're aiming for a more engaging web presence and to slowly but surely add more and more great products to our virtual shelves.
In the meantime, if you have any feedback or are looking for any product in particular, please email [email protected], sign up to our Newsletter or check out our Facebook page.
/